Detection in Raman Spectroscopy Data
Raman spectroscopy has been shown to be a powerful technique for non-contact and non-destruction detections and identifications. It uses a laser to probe the vibrational energy levels of a molecule or crystal, and thus provides information on molecular structure and chemical composition of materials.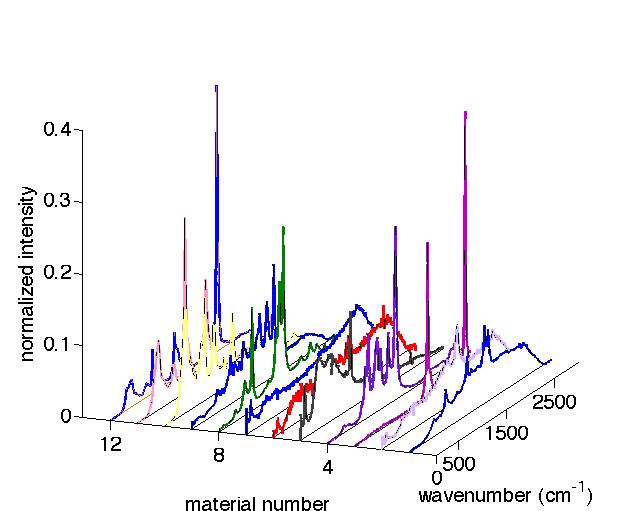 A Raman spectrum gives a set of peaks that correspond to the characteristic vibrational frequencies of the material, which can be used as a signature for identification of various materials. We develop algorithms for detection of surface-deposited chemical agents that provide robust performance to different operating and environmental conditions.
Active Project:

Algorithm Development for Standoff Raman Spectroscopy Data
Funded by the US Army Research, Development and Engineering Command (RDECOM)

Project team:
Recent publications:
W. Wang, T. Adali, and D. Emge, "Subspace partitioning for target detection and identification," IEEE Trans. Signal Processing, vol. 57, no. 4, April 2009.
W. Wang and T. Adali, "Detection using correlation bound in a linear mixture model," Signal Processing, vol. 87, pp. 1118-1127, 2007.
An unsupervised detection method using canonical correlation analysis is introduced for Raman spectroscopy. Simulation and experimental results are presented to demonstrate the effectiveness of the proposed method.
H. Li, T. Adali, W. Wang, D. Emge, and A. Cichocki, "Non-negative matrix factorization with orthogonality constraints and its application to Raman sctroscopy," VLSI Signal Processing Systems for Signal, Image, and Video Technology, vol. 48, nos. 1-2, pp. 83-97, August 2007.

We introduce a class of algorithms for non-negative matrix factorization using orthogonality constraints and show their application to detection of a target spectrum in Raman spectra data.
Resources: